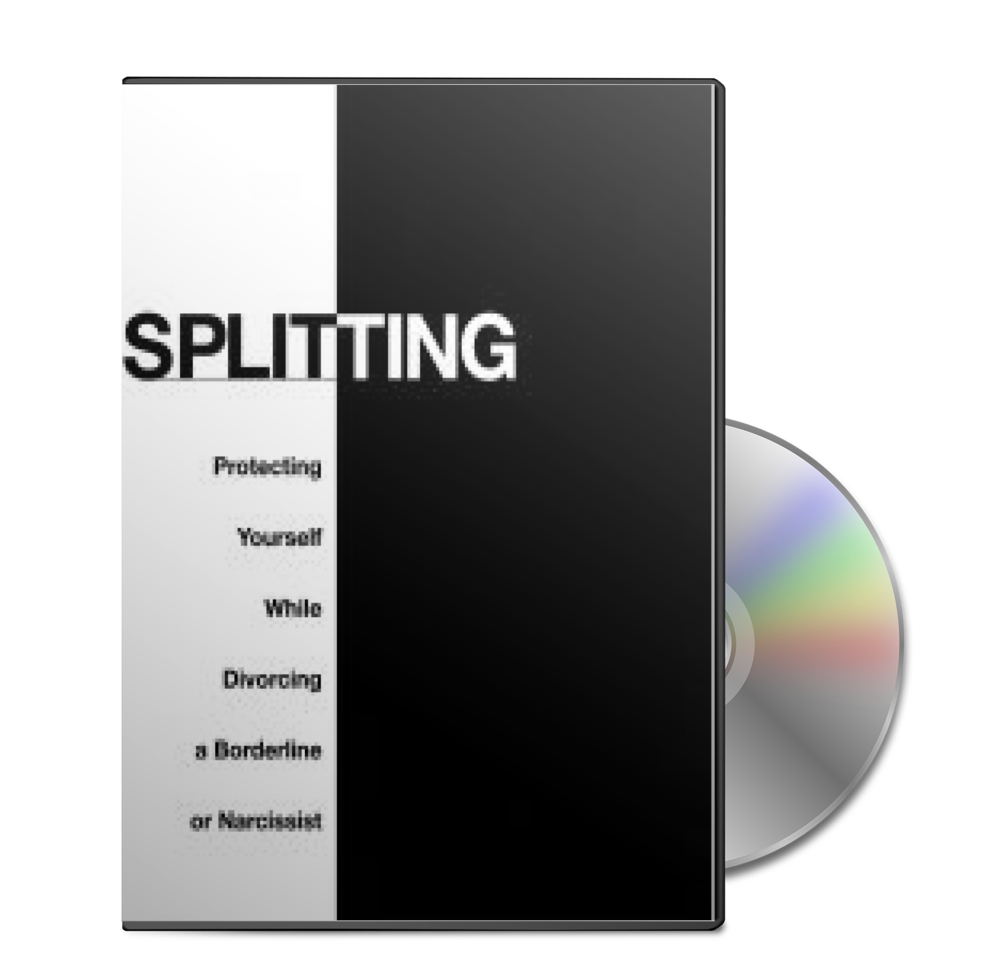 In this two-CD set, Bill Eddy expands upon the topics he wrote about in Splitting: Protecting Yourself When Divorcing Someone with Borderline or Narcissistic Personality Disorder, tackles some new ones, and answers frequently asked questions. Measured by Eddy's hourly rate, the 2-CD set is worth more than $500. This is not an audio version of the book. It is an expansion on it.
The Splitting CDs answers questions like:
– How should I tell my spouse I want a divorce?
– Should I stay in the marriage to be with my kids?
– Do men have an equal chance to gain custody?
– What should I do when my spouse lies in court?
– How do I educate my attorney about BPD?
– How do I get my attorney to return my phone calls?
– What if I need to switch attorneys?
– What are my chances of gaining custody?
– Should I bring up the diagnosis in court?
– Should I hire a BPD expert to testify?
-What is the custody evaluator looking for?
– Does mediation work with BPs?
– Help—I've been accused of sexual abuse!
– Should I represent myself?
– What do I do about parental alienation?
– For Grandparents—how do I get access to my grandchildren?
– How do I avoid battles after divorce?
CD Info
Publication date: 2006
Discs: 2
Author/Presenter Info
Bill Eddy, LCSW, Esq., is an attorney specializing in family law with a background as a licensed clinical social worker in psychiatric hospitals. He is President and co-founder of High Conflict Institute and serves as Senior Family Mediator of the National Conflict Resolution Center. He is recognized internationally as a leading expert in high-conflict personalities, particularly in family law disputes, including divorce, co-parenting, mediation, litigation, custody, and others. He is the author of several books on high-conflict personalities and personality disorders in legal disputes and the workplace, and has spoken around the world to thousands of professionals on the high-conflict topic. He is also recognized as an expert in issues such as child abuse, domestic violence, and false allegations.
Randi Kreger, co-author of the highest-selling book on Borderline Personality Disorder, Stop Walking on Eggshells, interviews Bill Eddy in the Splitting CD. Her website, BPDCentral.com is one of the most popular websites about BPD. Her Welcome to Oz online family of support groups are popular, attracting more than 50,000 members since 1995.