Narcissists: The Arrogant Players of Divorce - WEBINAR: 2-part series (RECORDING AVAILABLE NOW)
Narcissists: The Arrogant Players of Divorce - WEBINAR: 2-part series (RECORDING AVAILABLE NOW)
NOTE: The live webinar has passed. The link to access recording will be emailed to purchaser by the next BUSINESS day.
Presented by Bill Eddy, LCSW, Esq., Training Director and co-founder of High Conflict Institute
sale
Description
ENTIRE SERIES WILL BE RECORDED FOR LATER VIEW IF PURCHASED NOW
Presented in two parts on consecutive weeks. Each webinar can be taken individually or save $10 by signing up for both.
Narcissists: The Arrogant Players of Divorce
Narcissists have a drive to appear superior, often by putting down their spouses, by using their children to help them "win," by demanding special treatment, and by being charming and persuasive with professionals. They can be very arrogant and may use the court and negotiation processes to demonstrate their self-perceived superiority.
Webinar Series Outline
Part 1: February 12th, 2019 12:00 pm PST*
Understanding Narcissists in Family Law Cases
This webinar will provide basic information about narcissistic personality disorder, as well as common ways that narcissists manipulate professionals and blame them for their own failures. They often have predictable parenting behavior problems. Their common court and negotiation behaviors will be addressed, as well as ways to spot them early in a case.
Part 2: February 26th, 2019 12:00pm PST*
Dealing with Narcissists in Family Law Cases
This webinar will address ways of managing narcissists as clients and as opposing parties, in family court and in negotiations. The problem of dealing with narcissistic professionals will be included. Case examples will be provided of dealing with narcissists in and out of court.
Registration for the live broadcast ends at 10:00am Pacific Time. Recorded webinars remain available for purchase.
Agenda
50 minutes - lecture
10 minutes - live Q & A
Dates & Times
Tuesdays, 12 noon to 1pm Pacific Time
February 12th and 26th 2019
Webinar Details
After your registration and payment are completed, we will send a link to the email address you provided. We will give you directions and a link for joining the webinar(s). Check your inbox (and spam folder) a few days before your webinar(s) date.
EDUCATION CREDITS:
High Conflict Institute is an approved provider of California Mandatory Continuing Legal Education (MCLE). This course qualifies for non-participatory "self study" MCLE for California attorneys for 1.0 general MCLE and does not count for special credit in any subject matter or required topic. No CE/CEU credits are available.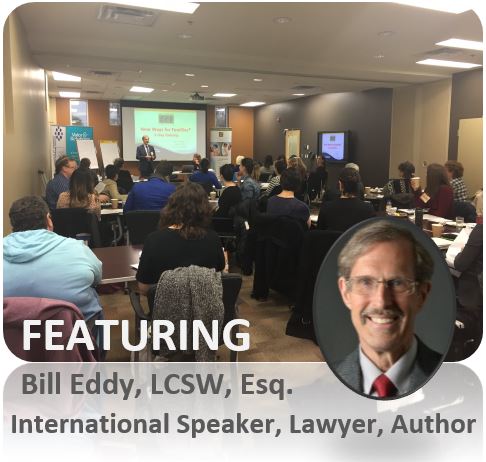 Bill is the training director and co-founder of High Conflict Institute. He is is a lawyer, therapist, mediator and he developed the "High Conflict Personality" theory (HCP Theory). He has become an international expert on managing disputes involving high conflict personalities and and provides training on this subject to a wide array of professionals around the world. Bill is also the author of several books and provides on-demand online training.